Mission and Purpose
The Cal Women's Network exists to promote a culture of respect, empowerment, and growth that supports professional development and leadership opportunities for women. Our aim is to create a campus culture that demonstrates gender equality as an opportunity for women. At our core we want to share experiences, resources, and best practices as well as inspire, support and encourage each other.
Goals
To promote gender equality for staff on campus, to serve as mentors, and supportive peers for female colleagues, and to serve as a resource to the campus on issues unique to the women staff. To advance the status and inclusion of women at UC Berkeley, to provide a safe space for open conversation about women's issues and concerns, and to encourage and maintain a network of women professionals on a local, regional, state and national level.
Sponsors
Director of Staff Learning and Development
Sidalia Reel, Director of Staff Diversity Initiatives
---
Upcoming Events
MEMBERSHIP SOCIAL HOUR
DATE CHANGE: Note date change this month to 9/28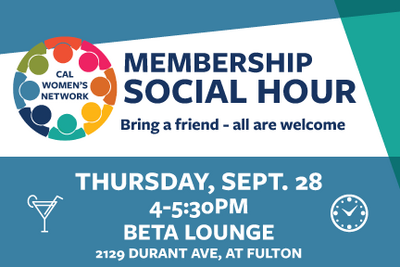 Thursday, September 28, 4-5:30pm, Beta Lounge (2129 Durant Ave. at Fulton)
Meet new people • Build your network Tap great resources • Have fun!
Bring a friend - all are welcome. View/print/share the flier.  
CWN social hours are held on the third Thursday every other month, unless noted otherwise. 
Cal Women's Network is committed to providing access to all individuals attending our events.  This event is being held at a wheelchair accessible location.  Please contact Leone Silk with any additional or special accommodations requests.
Future Events:
October: One Woman's Journey at Cal with Jo Mackness, Interim AVC-HR
November: Speed Networking Pilot with CWN and the BSA New Professionals Network
---
Past Events
Authentically Assertive
Speaker: Brigette Iarrusso, Instructor IDP, Coach and Leadership Trainer
Wednesday, August 9, 1 - 2:15 pm, Golden Bear Center, 1995 University Ave, Room 204 - NOTE CHANGE IN ROOM #
During this engaging, participant centered discussion, we will explore the beliefs and narratives that we hold around how we interact in the business world as women. We will reflect inward and through an exercise in developing our self-awareness, open to our vulnerability and explore where we play big, and where we play small in the workplace.
WOMEN & INVESTING: RETIREMENT INCOME PLANNING ON YOUR OWN
Speaker: Laura Crymble, Fidelity, Retirement Planner 
Tuesday, August 22, 12:10 - 1 pm, 1995 University Ave, UDAR, 5th Floor Golden Gate Room
An introduction to key retirement planning concepts for women, including estimating how long your money may last and preparing for challenges you may face in retirement.
RSVP/Questions: iberia@berkeley.edu
View/print/share the flier. 
UC BERKELEY BASIC NEEDS: BATTLING FOOD INSECURITY AND MALNOURISHMENT
Wednesday, July 12, 11:30am-1pm, Stiles Hall Conference Room, MLK Student Union
View/print/share the flier. 
LYNDA

.COM: SKILL-BUILDING FOR CAREER ADVANCEMENT

Tuesday, May 16, 12:10-1pm; Durant Hall, room 9

Have you met Lynda? Lynda.com is a eLearning platform, now available for free to all staff! Come learn how to make this excellent resource work for you. View/print/share the flier.

Learn more about eLearning at Berkeley.