Mission and Purpose
The Cal Women's Network exists to promote a culture of respect, empowerment, and growth that supports professional development and leadership opportunities for women. Our aim is to create a campus culture that demonstrates gender equality as an opportunity for women. At our core we want to share experiences, resources, and best practices as well as inspire, support and encourage each other.
Goals
To promote gender equality for staff on campus, to serve as mentors, and supportive peers for female colleagues, and to serve as a resource to the campus on issues unique to the women staff. To advance the status and inclusion of women at UC Berkeley, to provide a safe space for open conversation about women's issues and concerns, and to encourage and maintain a network of women professionals on a local, regional, state and national level.
Sponsors
Jennifer Chizuk, Director of Staff Learning and Development
Sidalia Reel, Director of Staff Diversity Initiatives
---
Upcoming Events
Membership Social Hour
Thursday, July 20, 4-5:30pm, Beta Lounge (2129 Durant Ave. at Fulton)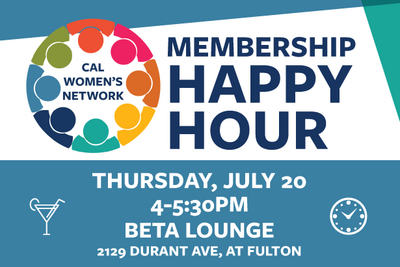 Meet new people • Build your network Tap great resources • Have fun!
Bring a friend - all are welcome. View/print/share the flier.  
CWN social hours will be held on the third Thursday every other month moving forward, unless noted otherwise. 
---
Past Events
LYNDA

.COM: SKILL-BUILDING FOR CAREER ADVANCEMENT

Tuesday, May 16, 12:10-1pm; Durant Hall, room 9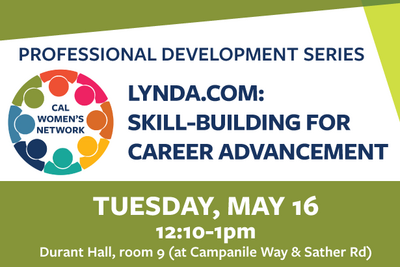 Have you met Lynda? Lynda.com is a eLearning platform, now available for free to all staff! Come learn how to make this excellent resource work for you. View/print/share the flier.
Presenter: David Nguyen, Learning Management Systems Administrator, Talent & Organizational Performance, UC Berkeley
Please contact iberia@berkeley.edu to RSVP
Learn more about eLearning at Berkeley.