Mission and Purpose
APASA strives for the following:
Promote the general welfare of Asian Pacific Islander (API) staff, faculty, and students at the University of California, Berkeley
Strengthen the professional and social networking between API staff and faculty, the Berkeley campus community, the University of California systemwide, and the general public
Encourage the recruitment, hiring, promotion, and retention of API faculty, staff, and students
Review and assess campus issues and their impact on the API campus community
Act as an informative and proactive organization to address, develop, and influence policy recommendations that affect the Asian Pacific Islander community on the Berkeley campus
Connect to the (API) community beyond the Berkeley campus
---
Goals
Promote Inclusivity
APASA will increase membership engagement to less "visible" API staff and allies to recognize our API diversity, as well as maintaining a strong relationship with our current members. We will offer leadership opportunities through participation in subcommittees and panels, promote events that meet the needs of our constituents such as staff/faculty community-building events and professional development programs.  
Professional development
Along the lines of increasing membership engagement, APASA will provide professional development resources for our members through a series of brown bags, workshops, scholarship opportunities, and informal mentorship and networking opportunities. By providing these resources, we hope to support the advancement and promotion of API staff/faculty as well as enhance their visibility and recognition.  

Advocacy
Develop awareness and education for our API staff community, especially through our current campus climate changes and through campus bureaucracy.  This includes providing visibility for our API staff to leadership roles on campus.
Identity Development
---

What does it mean to be an APASA general member?
There are various levels of involvement

Opportunity to build community with other API staff on campus

Hear first-hand of API related news happening on campus

Attend professional development, social, and career-focused events

Be a part of a large network of staff across campus
Join our listserv to get up to date information on APASA events! 
---
Sponsor
Director of Staff Diversity Initiatives
---
 APASA Sunny Low Award
About the Sunny Low Award
This award is named after Sunny Low, long-time staff member of UC Berkeley and co-founder of APASA. This award shall honor a staff member at Cal who has demonstrated outstanding service and commitment to the campus community. The recipient of this award shall have made a positive impact on the API community in the areas of service, mentorship, and equity & inclusion, and will be selected by a panel including Sunny's family, past award winners, and retired UC Berkeley staff.
Sunny Low was a beloved Cal staff member, APASA leader, husband, and father. Sunny dedicated his services to Cal for more than 30 years, retiring as associate registrar in 1992. He passed away in 1998 after battling Multiple Myeloma. During his tenure at Cal, Sunny mentored many staff members on campus and was a strong advocate for Asian Americans. He is remembered for his service, advocacy of diversity and inclusion, kindness, honesty, work ethic, and leadership. The Sunny Low award was established by APASA in 1992 in Sunny's honor.

2020 Recipient - Villy Somthida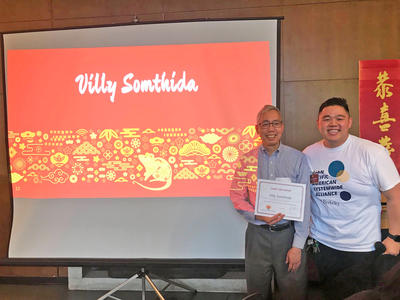 Left to right: Walter Wong, Villy's nominator, and Andrew Hua, APASA membership and assessment chair.


Past Sunny Low Award Recipients
2019 - Sunny Lee
2018 - Kathy Kwong
2017 - Glenn DeGuzman
2016 - Walter Wong
2015 - Marcia Gee Riley
Outstanding New/Mid Level Award 

About the New/Mid Level Award
The recipients of these awards shall have made a positive impact on the campus community. A panel of APASA steering committee members will select winners based on nominees' professional contributions to UC Berkeley, contributions to programs or projects which positively impact students, staff, and/or faculty, and support of the mission of APASA.
2020 Recipient, Larissa Charnsangavej
Left to Right: New/Mid-Level Award recipient Larissa with Andrew Hua, Membership & Assessment Chair

Past Recipients
2019 - James Kato
2018 - Jenny Kwon
2017 - Kun Yang
2016 - Zoe Xu