Mission and Purpose
APASA strives for the following:
Promote the general welfare of Asian Pacific Islander (API) staff, faculty, and students at the University of California, Berkeley
Strengthen the professional and social networking between API staff and faculty, the Berkeley campus community, the University of California systemwide, and the general public
Encourage the recruitment, hiring, promotion, and retention of API faculty, staff, and students
Review and assess campus issues and their impact on the API campus community
Act as an informative and proactive organization to address, develop, and influence policy recommendations that affect the Asian Pacific Islander community on the Berkeley campus
Connect to the (API) community beyond the Berkeley campus
---
Goals
Promote Inclusivity
APASA will increase membership engagement to less "visible" API staff and allies to recognize our API diversity, as well as maintaining a strong relationship with our current members. We will offer leadership opportunities through participation in subcommittees and panels, promote events that meet the needs of our constituents such as staff/faculty community-building events and professional development programs.  
Professional development
Along the lines of increasing membership engagement, APASA will provide professional development resources for our members through a series of brown bags, workshops, scholarship opportunities, and informal mentorship and networking opportunities. By providing these resources, we hope to support the advancement and promotion of API staff/faculty as well as enhance their visibility and recognition.  

Advocacy
Develop awareness and education for our API staff community, especially through our current campus climate changes and through campus bureaucracy.  This includes providing visibility for our API staff to leadership roles on campus.
Identity Development
---

What does it mean to be an APASA general member?
There are various levels of involvement

Opportunity to build community with other API staff on campus

Hear first-hand of API related news happening on campus

Attend professional development, social, and career-focused events

Be a part of a large network of staff across campus
Join our listserv to get up to date information on APASA events! 
---
Sponsor
Sidalia Reel, Director of Staff Diversity Initiatives
---
 APASA Sunny Low Award
About the Sunny Low Award
This award is named after Sunny Low, long-time staff member of UC Berkeley and co-founder of APASA. This award shall honor a staff member at Cal who has demonstrated outstanding service and commitment to the campus community. The recipient of this award shall have made a positive impact on the API community in the areas of service, mentorship, and equity & inclusion, and will be selected by a panel including Sunny's family, past award winners, and retired UC Berkeley staff.
Sunny Low was a beloved Cal staff member, APASA leader, husband, and father. Sunny dedicated his services to Cal for more than 30 years, retiring as associate registrar in 1992. He passed away in 1998 after battling Multiple Myeloma. During his tenure at Cal, Sunny mentored many staff members on campus and was a strong advocate for Asian Americans. He is remembered for his service, advocacy of diversity and inclusion, kindness, honesty, work ethic, and leadership. The Sunny Low award was established by APASA in 1992 in Sunny's honor.

2018 Recipient - Kathy Kwong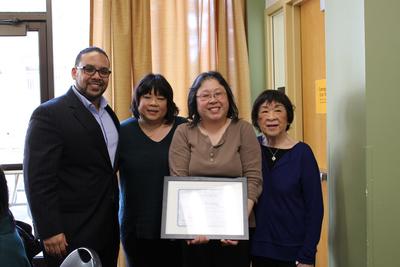 "Kathy Kwong is a long-time UC Berkeley employee and alumni who has worked on campus for over a decade. Kathy has been a huge supporter of API related events and has been a leader in the API community particularly within the Residential and Student Service Program. As a represented staff member, Kathy has been a leader and mentor for many of the APIs who serve in RSSP facilities, custodial, & maintenance. Her reputation as a mentor/guide grew for her willingness to help many API staff whose English was not their primary language. Many staff felt comfortable coming to her, especially those from Asian descent, who for one reason or another did not feel comfortable going to their supervisors or positional leaders. Kathy helped them understand and translate policies, procedures, and decisions from senior managers. Her reputation spread among many of the represented staff as someone who will help them understand so they can be part of the community. For many of the new API professional staff Resident Directors, she has been a resource for them to acclimate to the Berkeley community providing information on API related restaurants and services. As one for Academic Program Coordinator who identifies as API describes, "Kathy onboarded me to the job and the climate for APIs."

Kathy's has also been coordinating the RSSP Chinese Lunar New Year Luncheon Celebration since her arrival to Cal. In fact, she has been doing this longer than APASA. Each year, she coordinated the RSSP Lunar New Year Celebration usually by herself or with 1-2 others. She worked with and negotiated with local restaurants, built invitations, managed/collected money, marketed, decorated, and hosted the event. Current Assistant Director Marney Randle remembers, "She planned the whole event and I remember attending and feeling so welcomed and included even if I didn't identify [as a member of the API community]. I learned a lot from attending and met many API staff who I normally do not work with." What is amazing about Kathy's effort is that RSSP stopped provided funding and work time for her to do the celebration during budgetary reductions several years ago. This did not matter to Kathy. She continued to coordinate the event planning it exclusively by herself. She coordinated with local restaurants, leveraging her relationships to secure affordable prices for staff to enjoy and celebrate Lunar New Year. The event continues to draw significant crowds each year. 

Director Glenn DeGuzman recalls, "I remember attending my first Lunar luncheon wanting to see what it was all about. I didn't know Kathy well at the time. I was an officer with APASA and had only been to the APASA Lunar New Year and we had heard about her event. So I went. I was shocked to see how many APIs were in attendance. The restaurant was packed. They had more than our APASA Lunar New Year event! The majority were the represented API staff community that we did not see at our APASA event. It attracted many senior leaders who were also connecting with the population. Our APASA Lunar New Year primarily attracted administrators and faculty.... I can see they loved Kathy. It was fun to see how Kathy connected everyone so people can meet new people and build relationships. That personality is truly authentic. When I came to RSSP and became her supervisor, she welcomed me and showed me the ropes with care. She is a true professional and someone who represents the values of the Sunny Low Award."

During one year APASA and Kathy partnered and also did a joint Lunar New Celebration. This demonstrated Kathy's willingness to partner and collaborate across APASA.

Often times it is the API staff who are salaried and have the ability to flex their work schedules to directly work with and positively impact the API community. Kathy has been doing this and doing it on her own time usually during lunch and after hours to plan these the Lunar New Celebration. She has missed lunch because staff who have limited free time come to her cubicle to ask questions about whatever personal/work challenges they may have. She brings dim sum and other Asian pastries to the office to shares her culture. She had helped with translating communication before the department developed that service. I strongly urge the committee to consider the impact that Kathy had on this hidden API community who oftentimes do not have the flexibility to go to events and who are hourly employees. They are the API staff who clean our bathrooms, fix our facilities, and clean the grounds. Kathy gives a voice and a pathway for inclusion on this campus for this population that can be easily forgotten. Kathy prefers to stay behind the scenes. But we want to shine a light on her work in the API community. Because of Kathy's ongoing dedication to the API community, I strongly urge you to consider her for the Sunny Low Award."




Past Sunny Low Award Recipients
2017 - Glenn DeGuzman
2016 - Walter Wong
2015 - Marcia Gee Riley
Outstanding New/Mid Level Award 

About the New/Mid Level Award
The recipients of these awards shall have made a positive impact on the campus community. A panel of APASA steering committee members will select winners based on nominees' professional contributions to UC Berkeley, contributions to programs or projects which positively impact students, staff, and/or faculty, and support of the mission of APASA.
2018 Recipient, Jenny Kwon
"Jenny Kwon has been a strong advocate for all members of the UC Berkeley community -- including API staff, faculty, and students -- since I first met her in the Career Center, then as a Coordinator for Staff Diversity Initiatives (SDI) and the Multicultural Education Program, as well as in her role as a Chancellor's Staff Advisory Committee member, and still now as the Special Projects Administrator in the Chancellor's Immediate Office. 

In the Career Center Jenny adeptly and sensitively helped me find tools and information to assess my career and plot next steps in my professional life. In her SDI role she not only facilitated workshops on diversity, unconscious bias and cross-cultural education herself (work she continues to do), but she also coordinated the program to train and organize other staff volunteers to facilitate programs to extend the work of the Office of Equity & Inclusion beyond the few staff in CalHall. She was also a critical organizer for the NOW Conference for campuswide staff professional development and for the Council of Staff Orgs. In her current role in the Chancellor's Immediate Office, I have worked with Jenny on issues regarding the safety of undocumented students and others targeted by racist hostilities.

I am sure that the direct experiences I have had with Jenny are multiplied many times over across campus. I'm not sure where Jenny fits in the span of professional experience, so please accept this nomination in any of the categories for which she is eligible."


Past Recipients
2017 - Kun Yang
2016 - Zoe Xu