Mission and Purpose
The Cal Women's Network exists to promote a culture of respect, empowerment, and growth that supports professional development and leadership opportunities for women. Our aim is to create a campus culture that demonstrates gender equality as an opportunity for women. At our core we want to share experiences, resources, and best practices as well as inspire, support and encourage each other.
Goals
To promote gender equality for staff on campus, to serve as mentors, and supportive peers for female colleagues, and to serve as a resource to the campus on issues unique to the women staff. To advance the status and inclusion of women at UC Berkeley, to provide a safe space for open conversation about women's issues and concerns, and to encourage and maintain a network of women professionals on a local, regional, state and national level.
Sponsors
Sidalia Reel, Director of Staff Diversity Initiatives
---
News
Meet your 2019-2020 CWN Steering Committee:
Carina Galicia & Juliana Cho, Co-Chairs
Judy Smithson, Past Chair
Irania Alarcon, Community & Social Programs Chair
Orsolya Nadasdi, Professional Development & Education Chair
Yesenia Mendoza Muller, Diversity & Advocacy Chair
Stephanie Rosas, Fundraising Chair/Treasurer
Catherine Ciano, Membership & Assessment Chair
Shelley Kim & Christina Teller, Communications Co-Chairs
We currently have one vacancy for 4th Street At-large Rep. If you or anyone you know is interested please let us know!
---

Upcoming Events
Brown Bag Lunch for Parents of Kids with Disabilities/Challenges
Thursday, August 22, 12:00–1:00pm. RSVP required.
The Cal Parents of Kids with Challenges/Special Needs group will host a brown bag lunch. Julia Anable, PhD 
will be joining us as guest speaker for this month. She is a clinical psychologist, a parent, and used to be the Director of Counseling and Disabilities Services for a local college. She currently is an Employee Assistance Program therapist at the UC Berkeley Tang Center. Julia will lead a discussion on parent/caregiver burn out and coping strategies. Please bring your lunch and be prepared to discuss your concerns and questions. Please encourage anyone who would be interested in attending to 
rsvp
 to be added to the private bCal event.
Are you a Cal parent with a challenging, spirited, or special needs kid? We are interested in building community and having a space to discuss some of the big challenges you face. Having kids is isolating enough on its own, and adding that extra challenge can make the parenting journey infinitely more so. In order to both assess people's interests and areas of intention, please fill out the survey below. Your email address will not be shared, and the bCal invite will be listed as private in order to respect people's privacy around some of these topics.
Past Events
Summer Ice Cream Social
Thursday, July 11, 12-1:30pm, 309 Sproul Hall
Take a break to join us for some light conversation and networking, and enjoy some delicious ice cream.  
Don't Ask, Don't Get: Effective Negotiation Techniques Workshop with Dr. Amy Levine
Wednesday, May 29, 11:30-1:00pm, New location! Education Center, 1st Floor, University Health Services, Tang Center. 
You have opportunities to negotiate every day in your professional and personal life. Whether it is, "Where do you want to have dinner tonight?" or "I'd like to discuss my salary," if you don't ask for what you want and deserve, you'll never get it. In this session, you will learn how to prepare to negotiate, build your case, present your request, and clinch the deal. You will gain practical skills to achieve negotiated outcomes that will leave both parties feeling satisfied.
Speaker: Dr. Amy Levine is a certified leadership coach, educator and consultant who has worked for over 30 years with individuals and groups to assist them in reaching their goals. Levine served as Executive Director of the UC San Francisco Center for Gender Equity (UCSF CGE), which provided advocacy, education and services for women on leadership and diversity; health and wellness; and intimate partner violence prevention. She is an expert on a range of topics concerning women in society and is dedicated to addressing issues of ethnic diversity, sexual orientation, age and ability.  She earned a doctorate in education from UC Berkeley, and holds a master's degree in counseling psychology. Under Levine's leadership, UCSF CGE produced the Women's Leadership Symposium, a consistently sold-out conference held biannually from 1998 to 2008, that was the only leadership conference serving all women staff in the UC system. She has also received numerous awards, including Women Who Make a Difference from the San Francisco chapter of the Commission on the Status of Women for her service in the areas of employment and academic, economic and social advancement of women. For her work promoting gender equity on campus and in the community, she was the first-ever staff member to be awarded the UCSF Chancellor's Award for the Advancement of Women. As a UC Presidential Staff Fellow, Levine co-led a UC-wide project to collect data on workplace practices regarding the professional advancement of UC's women and developed recommendations to the President, including the establishment of the Systemwide Advisory Committee on the Status of Women.  
Brown Bag Lunch for Parents of Kids with Disabilities/Challenges
Thursday, April 4, 12:00–1:00pm. 

The Cal Parents of Kids with Challenges/Special Needs group will host a brown bag lunch with Professor Jennifer Selke facilitating. Dr. Selke runs a teen camp for kids with spectrum type disorders and is a school psychologist. She will talk about job skills high school and college students need and how to help their teen without doing it all for them.
Social Hour
In celebration of Women's History Month, join us for our first social hour of the season! Appetizers provided by the ASUC Student Union. 
Thursday, March 21, 2019, 4 - 6 pm, Bear's Lair Tavern, 2465 Bancroft Way #104
View/print/share our upcoming events flyer.
Brown Bag Lunch for Parents of Kids with Disabilities/Challenges
Tuesday, Feb. 19 12–1:30pm, 9 Durant. RSVP required.
The Cal Parents of Kids with Challenges/Special Needs group will host a brown bag lunch with guest speakers, ADA/Section 504 Compliance Officer, Ella Callow, and Disability Specialist, Disabled Students' Program, Emily Paulson who will talk about the IEP and 504 process and answer questions.
Brown Bag Lunch for Parents of Kids with Disabilities/Challenges
Thursday, Jan. 10 12–1pm, 9 Durant. RSVP required.
Hosted by Ashley Dawn & Aria Priest.
Brown Bag Lunch for 
Cal 

Moms of Teens & Tweens

Thursday, Dec. 13, 12-1 pm, 306 Wheeler Hall. Contact Michele Rabkin to RSVP.

When children enter elementary school, their mothers often find a strong support network among other parents they get to know during pick-up/drop-off, school volunteering, after-school programs, play-dates, birthday parties, etc. But where do you find support and community as your kids get older and more independent? How do the work-life balance issues change as your children enter adolescence? What resources and strategies are helping you through the turbulent tween and teen years? What's keeping you up at night? Join other Cal Women for a candid conversation about the joys and trials of parenting 12-to-18-year-olds. Hosted by Michele Rabkin.
CWN Brown Bag Lunch for Parents of Kids with Disabilities/Challenges
Thursday, Dec. 6, 12–1pm, Durant. RSVP required.
Hosted by Ashley Dawn & Aria Priest.
Bringing the *Personal* Back to Branding
Wednesday, Nov. 28, 2:10 – 3:15 pm, 202 South Hall
Speaker: Rebecca Andersen
Event description: 
Since the launch of "Brand You" in the late 90's, we have had a love-hate relationship with personal branding. Is this concept still relevant, or has it gone the way of snap bracelets and hammer pants? We will explore how to create an authentic and dynamic personal brand which can help you make meaningful contributions and maximize your well-being.
Expected take-aways: 
#1. Personal branding must be authentic and based on your values, skills/strengths, communication style. As you evolve, personal branding will also evolve. 
#2. Personal branding must be about how you help others; that is, how do you personally improve the world?
#3. To be effective, people need to understand your brand. Create a good user experience and a clear definition of who you are.

Speaker:
Rebecca Andersen is an educator, career coach, and talent connector who is committed to building engaged communities and helping people connect to meaningful work. A career changer herself (environmental engineer --> career coach), Rebecca brings over a decade of career/leadership development and is a certified "Design Your Life" (Stanford Design Lab) and WellCoaches (Harvard) Career Coach. She currently serves as Director of Career Services & Alumni Relations at the UC Berkeley School of Information and also teaches career development with UC Berkeley Extension. In her spare time, Rebecca chases after 2 children, serves as secretary of the PTA, and is a board member for the Golden Gate Mothers Group (non-profit serving 4k+ San Francisco Bay Area mothers).
CWN Social Hour
Oct. 18, 4-6 pm, International House Cafe (new location!)
Brown Bag Lunch for 
Cal 

Moms

Thursday, Oct. 11, 12-1 pm, Haas School of Business. RSVP Required.

Hosted by Kun Yang and Engage@Haas
CWN Open Meeting
Interested in learning more about Cal Women's Network, and potentially joining our leadership team? Please attend this meeting for more information!
Oct. 3, 12-1 pm, Berkeley Way West room 5101
CWN Back to School Brown Bag Lunch
A fun, informal way to connect with other women at Cal!
Tuesday, Sept. 11, 12-1pm, 370 Dwinelle
Membership Social Hour
Join us for our first social hour of the season!
Thursday, August 16, 2018, 4 - 6 pm, Beta Lounge, 2129 Durant Ave
Brown Bag Lunch for Cal Moms
An informal way to connect with working moms on campus. RVSP required (Google form). 
Thursday, August 2, 12 - 1 pm 
Contact Caitlin Appert-Nguyen with questions. 
Coffee Chat
co-hosted with BSA New Professionals Network
Tuesday, June 26, 9-10 am, Ishi Court in Dwinell Hall
View/print/share our upcoming events flyer.
Intergroup Dialogues 
Intergroup Dialogues: Women of Color in Leadership
Join staff groups Alianza, APASA, BSFO and the Cal Women's Network for the first Intergroup Dialogues around Women of Color in Leadership. Find yourself in a managerial position, wondering what's next?
These meetings are structured to give you the space to share and learn about how to carve your path at UC Berkeley. Although these events are catered to women of color in leadership, all are welcome to attend.
May 17, 2018 – Dialogue #1: Share + Discuss
Discuss potential paths and barriers for women of color in leadership
Share experiences in small groups and then break for a larger discussion
May 30, 2018 – Dialogue #2: Analyze + Take Action
Review outcomes of Dialogue #1
Produce tangible recommendations for the campus to help advance women of color in leadership
Both sessions will be held from 12-1:30 pm, location TBA
Special thanks to Sid Reel and the Division of Equity & Inclusion's Campus Climate Speaker, Affirmation & Empowerment grant series.
Intergroup dialogues working group: Rocio Harumi Quinones (Alianza), Kun Yang (APASA), Eryn Hong (APASA), Takiyah Franklin (BSFO), Emerald Templeton (BSFO), Rebecca Ulrich (BSFO), Judy Smithson (CWN), Iberia Zafira (CWN)
Let's Get You Hired! Behind the Recruitment Process
UPDATE: See slides from the presentation
UC Berkeley Recruiters will take Cal Women's Network members behind the scenes and share their expertise in identifying and pursuing new job opportunities on and off campus.
Tuesday, May 22, 12-1 pm
Golden Bear Center, 1995 University Avenue, Room 202/204
Yahaira Maldonado, Senior Lead Recruiter with over 14 years of HR experience in different areas of HR. She holds an MA in Labor Relations and a BA in Human Resources from the University of Puerto Rico. She has been with UC Berkeley for 4 years. Currently, she is supporting Cal Dining, the Chancellors Office, Cal 1 Card Office, Haas, and Conferences Services.
Erin Simmer, Recruiter with over 7 years of experience within the UC System. She holds a BA in Political Economy, Public Policy from UC Berkeley. She has been with UC Berkeley for 4 years, 2 of which have been with the Recruitment Team. Currently, she is supporting Equity & Inclusion, Library, the Student Learning Center, Grad Division, and the EVCP Office.
Visual Life Mapping Workshop with Bernie Guey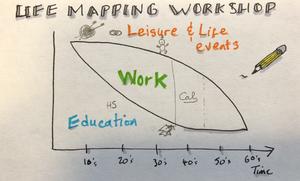 Monday, March 26, 12-1pm, Tang Center, Section Club room (first floor)

Life and career planning must include some reflections before you can look ahead. In this interactive workshop, we will look holistically and map different aspects of our life through the decades, to see what we can learn, and to visualize where we are going in the future. At the end of the workshop, using pen and paper, you will have a visual map of your experiences (work, education, leisure and more), as well as some ideas plotted for the future. 
Workshop participants will come away with methods to –
Create a holistic visual map of your life that you can build upon
Explore your life's trajectory visually
Gain a deeper sense of who you are from your myriad experiences
Bernadette Geuy is the Design Lead for the Student Information Systems (SIS) replacement project. Previously she played a pivotal role in shaping the vision for, and product managing, the launch of CalCentral. Her passion and purpose on campus has always been on improving the online end-user experiences of our students, faculty, and staff. Bernadette will be leaving Cal in March to start a design consulting practice. 
Membership Social Hour
Thursday, April 19, 4 - 6pm, Beta Lounge, 2129 Durant Ave
Meet new people • Build your network Tap great resources • Have fun!
Bring a friend - all are welcome. View/print/share the flier.  
Cal Women's Network is committed to providing access to all individuals attending our events. This event is being held at a wheelchair accessible location. Please contact Leone Silk with any additional or special accommodations requests.
CWN social hours are held on the third Thursday every other month, unless noted otherwise.
Cal Women's Network Potluck Lunch
Wednesday, February 7, noon - 1pm
Location: Sproul Hall, room 309
Sign-up to bring a dish to share.
Please us join for Cal Women's first event for Spring 2018! This is a great way to meet new colleagues and connect with old friends. Learn about how you can get involved in our organization this coming year.
Membership Social Hour
Thursday, February 15, 4 - 6pm, Beta Lounge, 2129 Durant Ave
CWN social hours are held on the third Thursday every other month, unless noted otherwise. 
Speed Networking
Presented in partnership with the BSA New Professionals Network.
Thursday, November 2, 2017, 12-1:30pm
Have specific questions about your career, navigating campus, and more? Get 1:1 advice and access to insights from distinguished UC Berkeley staff:
Kate Lewis (Associate Director, Industry Alliances Office)

Silvia Marquez (Associate Director, Financial Aid & Scholarships)

Rod Santos (Residence Affairs Supervisor, Registrar's Office)

Andrea Sohn (Interim Director, Communications and Events, Graduate Division)

Helena Weiss-Duman (Deputy Director of External Relations & Marketing Communications, UDAR)

Kun Yang (MBA Career Program Manager, Haas School of Business)
One Woman's Journey at Cal with Jo Mackness, Interim AVC-HR
Wednesday, October 25, 2017, noon – 1pm, Wells Fargo Room, Haas (Cheit Building, Fourth Floor, Room 420)
Please RSVP to Abbey Myszka. 
Interview with Jo Mackness, Interim AVC-HR on her journey through UC Berkeley - lessons learned from rejection as an undergrad applicant to leading Human Resources - and everything in between.
Take-aways will include: 
Importance of and difference between mentorship and sponsorship.
Importance of showing up as who you really are (authenticity) and being in an organization that allows that.
Importance of strategy for all components of life (not just work).
Jo will be interviewed by Danner Doud-Martin, Assistant Director, Operations, International Business Development Program at Haas. 
Membership Social Hour
Thursday, September 28, 4-5:30pm, Beta Lounge (2129 Durant Ave. at Fulton)
CWN social hours are held on the third Thursday every other month, unless noted otherwise. 
Authentically Assertive
Speaker: Brigette Iarrusso, Instructor IDP, Coach and Leadership Trainer
Wednesday, August 9, 1 - 2:15 pm, Golden Bear Center, 1995 University Ave, Room 204 - NOTE CHANGE IN ROOM #
During this engaging, participant-centered discussion, we will explore the beliefs and narratives that we hold around how we interact in the business world as women. We will reflect inward and through an exercise in developing our self-awareness, open to our vulnerability and explore where we play big, and where we play small in the workplace.
WOMEN & INVESTING: RETIREMENT INCOME PLANNING ON YOUR OWN
Speaker: Laura Crymble, Fidelity, Retirement Planner 
Tuesday, August 22, 12:10 - 1 pm, 1995 University Ave, UDAR, 5th Floor Golden Gate Room
An introduction to key retirement planning concepts for women, including estimating how long your money may last and preparing for challenges you may face in retirement.
RSVP/Questions: iberia@berkeley.edu
View/print/share the flier. 
UC BERKELEY BASIC NEEDS: BATTLING FOOD INSECURITY AND MALNOURISHMENT
Wednesday, July 12, 11:30am-1pm, Stiles Hall Conference Room, MLK Student Union
View/print/share the flier. 
LYNDA

.COM: SKILL-BUILDING FOR CAREER ADVANCEMENT

Tuesday, May 16, 12:10-1pm; Durant Hall, room 9

Have you met Lynda? Lynda.com is a eLearning platform, now available for free to all staff! Come learn how to make this excellent resource work for you. View/print/share the flier.

Learn more about eLearning at Berkeley.